The Friends of Hôpital Albert Schweitzer Haiti is
pleased to announce a special collaboration with Duquesne University in Pittsburgh. From now through the end of April, works from our permanent collection will be on display at the Les Idées Gallery on the second floor of the Duquesne Union. On

April 3rd

, Duquesne University will host a special reception for the exhibition in the Africa Room, also on the second floor of the Union. The reception is from 6-9 pm, and will feature a presentation by Dr. Marcus Rediker, Distinguished Professor of Atlantic History at the University of Pittsburgh, and Haitian art collector. Both events are free and open to the public, and all are encouraged to attend! Gallery hours are Monday through Friday, 9:00 am - 5:00 pm.

6:00 - 9:00 PM in the Duquesne Union in downtown Pittsburgh. The program will begin at 6:45 in the Africa Room, adjacent to Les Idees Gallery. Dr. Rediker will provide a brief presentation, and will be available afterwards for a gallery walk-through. Both gallery and reception room are on the 2nd floor level of the Union, parking is available in the Forbes Ave. Lot or on the street. The event is free and open to the public.
---
About Dr. Marcus Rediker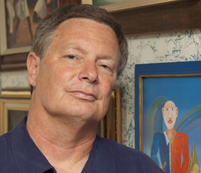 Marcus Rediker is a historian, writer, teacher and activist. He has written six books, including most recently

The Slave Ship: A Human History

(2008). Currently the Distinguished Professor of Atlantic History at the University of Pittsburgh, Rediker is an expert in early American and Atlantic history. His personal interest in Haitian art is based in the historical fusion of the beliefs, forms and aesthetics of traditional Haitian religious culture with those of French metropolitan surrealism.

You can learn more about Dr. Rediker on his website:www.marcusrediker.com